The manufacturing industry employs 2.7 million people in the UK; achieve training states that Manufacturing 'is an industry that will always require more workers, and it's also an industry that is becoming more attractive to those who may not want to attend a traditional university.' Lean Manufacturing Apprenticeships – What You Need To Know (achievetraining.org.uk)
A Lean manufacturing apprenticeship is a great way to gain solid, transferable skills that you can take with you as your progress through your career, no matter where you choose to go with this qualification. Learners will learn how to carry out their work safely, meet the exacting quality standards demanded in a fast-paced and efficient processing environment, and develop into multi-skilled operators through process ownership.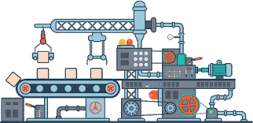 What is LEAN Manufacturing?
LEAN Manufacturing aims to reduce times within the production system and response times from suppliers and customers. Lean Manufacturing is similar to another manufacturing concept known as 'Just in time manufacturing, sometimes known as JIT Manufacturing.
Businesses that effectively practice LEAN Manufacturing include the likes of Caterpillar, Nike, Toyota, Intel and Parker Hannifin (Some of which we work with for apprenticeships here at Zenith!).
What do you need to do for a LEAN Manufacturing apprenticeship?
This Apprenticeship is an accessible way to gain a valued qualification; you don't need any specific, already-gained qualifications to start it; individual employers will set the selection criteria for their Apprenticeships. However, often it is advisable that you have at least a level 2 qualification in Maths and English, however if you haven't got this already don't worry! Throughout your apprenticeship you often have the opportunity to gain a Maths/and or English qualification alongside your learning, if you haven't already done so.
Where can this Apprenticeship take you?
A LEAN Manufacturing apprenticeship provides people with a broad spectrum of opportunities to work in a technically advanced and innovative environment. Some job roles that you can progress towards following this apprenticeship includes Team Member Production; Manufacturing Production Operative; Manufacturing Assembly Operative; Manufacturing Inspection/Quality Assurance Operative; Manufacturing Logistics Operative; Manufacturing Material Handling Operative; Manufacturing Process/Finishing Operative.
This apprenticeship is a great way to gain solid, transferable skills that you can take with you as you progress through your career, no matter what you choose to do post qualification.
For more information about this Apprenticeship and what you'll learn within it, look at our website, Level 2 LEAN Manufacturing – Zenith Training.