So you're leaving school this year, or you've gone to sixth form, and it's not really working out for you. Not sure what you want to do or what your options are? Have you considered an apprenticeship?
In school, in the UK, students are often expected to follow the traditional route in education, progressing onto a sixth form, or a college and then University to secure a degree. However, we all know that not everybody learns the same way or wants the same path in life, and the traditional educational route does not suit every student.
Because it is a legal requirement in England to stay in education until you are 18, apprenticeships and traineeships offer an alternative to classroom learning and the chance to gain practical and relevant experience within the industry in which you choose to do your apprenticeship. There are various apprenticeship types to suit your personal interests and goals, and they don't define your career, so don't panic. There isn't many 16-18-year-olds who know exactly what they want to do. For now, you might just know you don't want to be in a classroom.
So, what are the benefits of going down the apprenticeship route?
You'll earn whilst you learn:
When you do an apprenticeship, you'll be working for an employer. That means you'll be paid for every hour in the role while simultaneously learning/ gaining a qualification on the job. Many students tend to take on a part-time job while studying full time at sixth form or college, eating into their personal time. In contrast, you can earn money from doing your already full-time apprenticeship and have the rest of your time to yourself. Not to mention as long as you're over 16, living in England and not in full-time education, doing an apprenticeship is free.
How much will I be paid?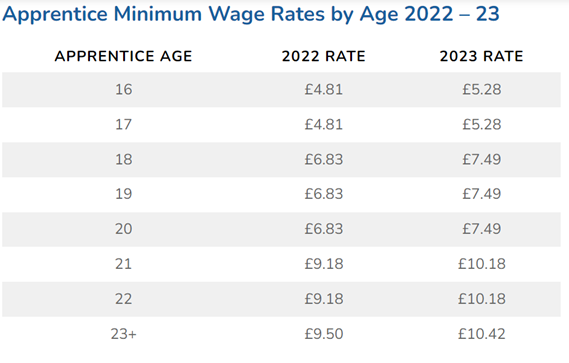 You'll gain valuable industry insight and become more employable:
There are many apprenticeship options out there; regardless of the industry the apprenticeship is in, it is a guarantee that you will gain some industry insight. This happens naturally as you accumulate time in the role completing your apprenticeship, as 100% of your time will be spent in the workplace. You will grow to thoroughly understand the workplace and industry as you develop your skills within it.
Other traditional educational routes do not offer the opportunity to gain industry insight in the same way an apprenticeship does, and this frustrates employers. Have you ever heard an employer say 'they don't have the experience' before? This is because traditional education can lack real-world scenarios and exposure. Sixth form and college options are theory-based for the majority. Apprenticeships prepare you for work in a way that sixth form and college won't and, in turn, can make you employable.
They are accessible to everyone:
Suppose you struggle with the traditional structure of academic learning. In that case, an apprenticeship is an opportunity to still learn and push yourself in your chosen field, with more flexible time to complete your apprenticeship compared to the pressure of exams and course work at sixth form and college.
Moreover, if you have not passed GCSE maths or English, you have the opportunity to do equivalent qualifications while doing your apprenticeship, known as functional skills. These are nationally recognised qualifications and will ensure you aren't held back because you couldn't secure the GCSE.
A better work/life balance
The apprentice will be assigned time off the job during an apprenticeship to complete their apprenticeship work. Apprentices don't take their work home to complete as it's agreed with the employer and the apprenticeship provider that all work is completed during work time. This factor allows for a better work/life balance than sixth form and college, where you would be expected to revise or complete coursework at home or in your spare time.